LENT 2020: The Presbyterian Hunger Program strives to walk with people in moving towards sustainable choices that restore and protect all of God's children and creation. As people of faith, we seek to "serve and preserve" God's world. However, some of our collective choices have led to a changing global climate, which translates to warmer temperatures, rising sea-levels, and severe storms, just to name a few. To turn this tide, we must commit to treading lightly on God's Earth. In Lent, we slow down, take time, and examine our internal spiritual lives and the way we live out our Christian faith in the world around us. Our hope is that this Lenten calendar will be the beginning of actions intended to create more mindful behaviors throughout the year. Copies of the Lent 2020 Action Calendar are available in the church office, they can be emailed to you or downloaded from: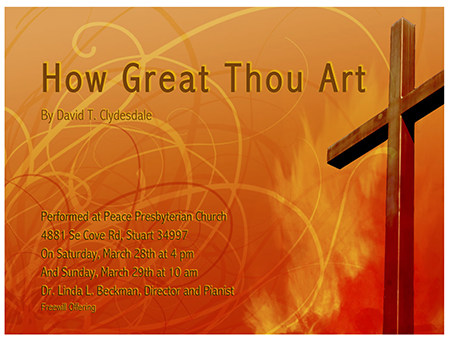 Peace Presbyterian Church is proud to announce we are hosting our
very own Little Free Library! The community oriented concept is to
take a book and leave a book at the Little Free Library located in our
parking lot nearest to Salerno Bay Manor Nursing Home.
Stop buy and take a look or visit the website to learn more!
 https://littlefreelibrary.org

This Website is dedicated to the memory of Elder Richard "Dick" Rutz 1936 ~ 2014
"...well done thy good and faithful servant..." Matthew 25:21 NIV